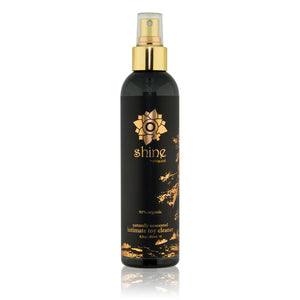 For those moments when you just don't feel like going aaaaaaall the way to the bathroom or are in need of a quick fix... Spray on, wipe off, done!
Sliquid's organic and unscented toy cleaner is infused with body and nature safe cleansing agents like tea tree oil and castor oil, which have natural anti-bacterial and anti-fungal properties. This non-foaming toy cleaner does not contain any harsh chemicals.
Ingredients: Organic Aloe Barbadensis Decolorized Leaf Juice*, Organic Tea Tree Oil, Organic Castor Oil, Organic Jojoba Oil
*reconstituted

- Organic ingredients used
- Vegan and cruelty free
- Recyclable packaging
- Water soluble
- Free of fragrance, glycerine, parabens, alcohol and triclosan.