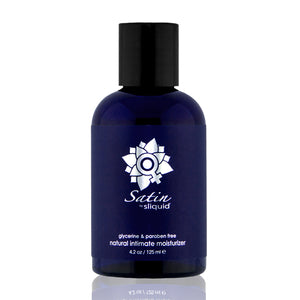 Sliquid Satin is an Aloe Vera and Carrageenan based lubricant that can be used either as a daily moisturizer or as a lubricant for all your naughty activities.
Its moisturizing abilities can be soothing for people experiencing vaginal dryness. A proprietary blend of natural moisturizers, including Carrageenan, Aloe Vera, and Vitamin E creates a natural feeling that emulates your body's own natural moisture.
Just like any other Sliquid product, this lube does not contain any parabens, DEA, or sulfates, and is 100% vegan friendly.
Naturals Satin Ingredients:
Purified Water, Plant Cellulose (from Cotton), Carrageenan, Aloe Barbadensis (Aloe Vera), Natural Tocopherols (Vitamin E), Cyamopsis (Guar Conditioners), Potassium Sorbate, Citric Acid

- Glycerin free and paraben free
- 100% Vegan friendly. Cruelty free/NO animal testing
- Water soluble and easy to clean up
- Hypoallergenic and non-toxic
- Non-staining, unflavored and unscented
- pH balanced neutral
125 ML