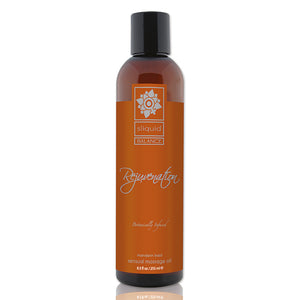 REJUVENATION is a luxurious feeling massage oil with a refreshing blend of mandarin and basil, known to revive and restore vitality. SLIQUID's massage oils are made with a blend of natural nut and seed oils. These oils are combined with hand selected organic botanical extracts, all of which are chosen for their natural skin healing and soothing properties. 
Ingredients: Sweet Almond Oil, Coconut Oil, Grape Seed Oil, Sunflower Seed Oil, Macadamia Nut Oil, Jojoba Seed Oil, Mango & Shea Butter, Vitamin E (tocopherol acetate), Organic Extracts of: Flax, Green Tea, Hibiscus & Aloe Barbadensis, and Essential Oil Fragrances.

- Only the safest natural ingredients.
- 100% Vegan friendly.
- Cruelty Free: No animal testing, period.
- 100% recyclable packaging. Stay green!