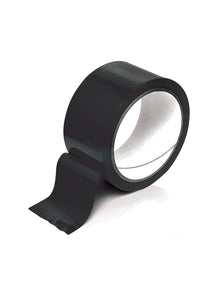 Tape that only sticks to itself, not to your hair and skin! Use your fantasy to create your own restraints, blindfolds and fetish accessories. An affordable way to dip your toes into the magical world of bondage. The tape holds securely and can be cut through quickly with scissors.
The tape is 50 mm wide, has a total length of 15 meters and is reusable!
Not recommended for humans with sensitive skin.
Material: PVC, cardboard core  
Cuts with scissors (always keep on hand during play)
Reusable